MAJOR George Onions received the highest order for gallantry after taking 200 German prisoners who were threatening an attack at Ashliet-le-Petit in Northern France.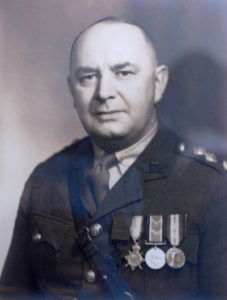 With one comrade, who died as a result of the encounter, Lance Corporal Onions, as he was at the time, opened fire on a column of Germans who surrendered and were taken prisoner.
George Onions was born in Bilston in 1883 and was 35 when he earned the Victoria Cross for his action on a foggy morning in the company of Private Henry Eades, who died of wounds three days later and was posthumously awarded the Distinguished Service Medal.
Lance Corporal Onions citation tells us more:
'For most conspicuous bravery and initiative south of Ashiet-le-Petit on 22 August 1918, when having been sent out with one man to get in touch with the battalion on the right flank, he observed the enemy advancing in large numbers to counter attack the position gained on the previous day.
Realizing his opportunity, he boldly placed himself with his comrade on the flank of the advancing enemy and opened rapid fire when the enemy were about 100 yards from him, the line wavered and some hands were seen to be thrown up.
Lance Corporal Onions then rushed forward, took about 200 enemy prisoners and marched them back to his company commander.
By his magnificent courage and presence of mind he averted what might have been a very dangerous situation.'
Not that much is known about the life of St Paul's most decorated former member who now gives his name to the young members section of the Club.
It is known that George Onions was educated in Wales and lived for a period in Australia where he married.
He worked as a salesman in the iron and steel industry and lived for a time in Cheshire.
His army career included service on the Western Front and in Ireland at the time of the Easter rising.
Like many, then as now, life in Civvy Street was not easy even with a Victoria Cross.
George Onions had problems after returning from the war and even found himself the wrong side of the law. He was bound over after a conviction for fraud. His son also died young, aged 23 in 1932.
It is known that George Onions lived in Birmingham from the mid 1930's at an address in Hagley Road and it is at this time that it is thought he was elected as a member of St Paul's Club.
He died in April 1944 from complications following a road accident.
Accounts differ as to whether he died at home or in Dudley Road Hospital. Major Onions remains lie in Quinton Cemetery.
A distant relative, Lewis Onions, is a current member of St Paul's Club.
Special replicas of Major Onions VC that is displayed at the Keep Military Museum in Dorchester, was struck by Firmin and Sons Ltd, medal makers who are based just a short distance from St Paul's Club.
Replicas were given to members and guests at the commemorative dinner.
A donation of £580 was made to forces' charities Help for Heroes and the Army Benevolent Fund following the George Onions VC Dinner at St Paul's Club.