This evening saw Birmingham private members club, St Paul's Club, honouring Sarah Whitticase, aka Madam Ex, who has served for two years as President.
Unusual circumstances dictated such an arrangement, and Sarah has to be thanked for such a commitment. As President, Sarah, who is co-owner of AIM Internet, a leading digital agency based in Birmingham, has certainly had her share of dealing with difficulties over that period.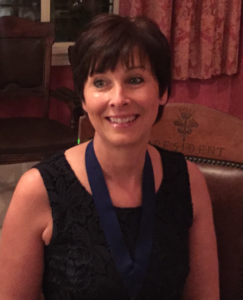 Sarah is the first lady member of St Paul's, Birmingham's oldest private members club, to be elected President of our venerable institution, and rose to the occasion seemingly without a flinch, although I am sure that the occasional misgiving must have crossed her mind at times.
Our Secretary, Anthony Blakemore, addressed the table and reminded us of the tradition behind this evening's supper. Consequently, each member stood, and expressed thanks to Sarah for her forbearance during her term of office, with the occasional anecdote about Sarah and the members thrown in.
The current President's wife, Susan Barnett, also acknowledged Sarah's input and thanked her for coping so well when surrounded by male Committee and Club members for such a long time. Sarah's ability to listen and communicate was also mentioned by several members.
On behalf of the Club, Philip Barnett presented Madam Ex with some very attractive wine glasses, as a memento of her time as President.
Madame Ex also provided the port, which we all enjoyed.
So, well done Sarah, and our combined thanks for your efforts, and time given to our Birmingham private members club over the last two years.
Tony Williams
If you are interested to become a member of St Paul's Club and connect with a thriving community based on long-term, trusted relationships, why not find out more about our member benefits and facilities?
You might also like to read our previous blog about our first ever evening of Opera music at St Paul's Club, courtesy of Opera Mirage.